My own personal Girls'Day as a teenager – sadly not a good day!
I remember participating in Girls' Day as a teenager. The concept was quite new, one or two years old. My father, always intent on his three daughters' future, registered my sisters and me for three project offers at his employer's, a big industrial company. And it sounded great, right? Letting girls dip their toes into the water of 'typically male jobs', dispelling gender clichés, showing kids new perspectives…
Sadly, my Girls' Day was a total letdown. What was advertised as a "Day in the IT department of the company's house bank" turned out to be a day in their call centre. Ten girls were given ten telephones and were told to do a training programme where they phoned each other the entire day. One played the customer, and one played the service assistant who had to read pre-formulated answers off the screen. The entire day! Mind-numbingly boring! What I remember most fondly about the day were the spaghetti in the cafeteria for lunch, and that tells you something.
So this was what working in tech was like? "Nope, I'm out", teenage me thought, "If that's what it's like, I'll study something to do with languages and never ever ever end up in tech. No way!"
Now I'm in tech after all, after studying math at university, and that's a good thing. I love immersing myself in complex problems, finding creative solutions, always learning something new; I enjoy the challenge, the teamwork, the sense of pride when in the end there's a piece of software that makes the customer's life a little easier, and I can say: "I contributed to that ." How I would love to tell teenage me that this is what working in tech is really like.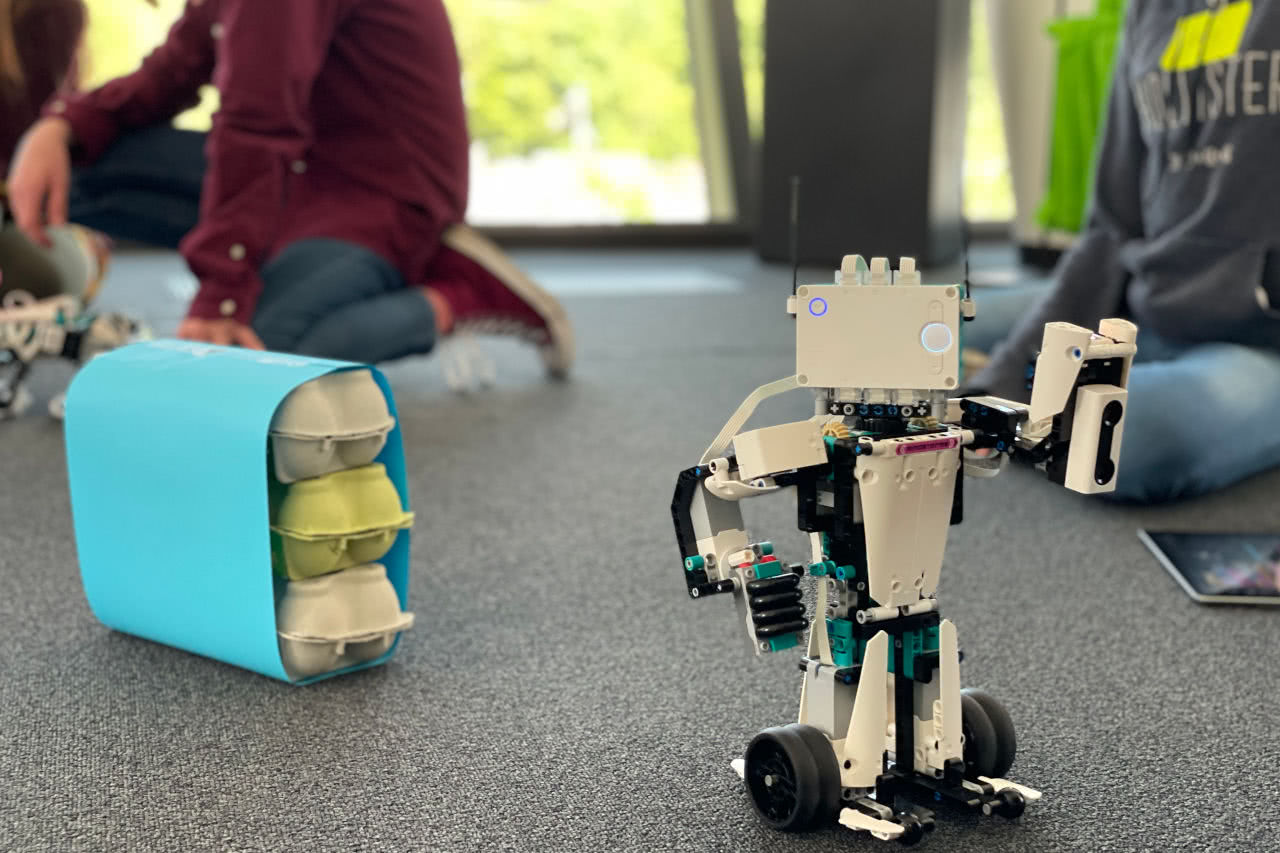 cronn's first Girls'Day promised to be a memorable event!
When we toyed with the idea of hosting a Girls' Day event at cronn this year, I absolutely wanted to be a part of it. Just please let us create a better programme than the bank back then! But how do you show a bunch of girls between the ages of 10 and 14 in a single day what it means to develop software? What agile methodology is? And what various other jobs there are in a software development company?
You can't very well have them put together a spring boot application when they have never written a single line of code in their lives, can you? We quickly decided on programming Lego Mindstorms robots. My colleagues Paula, Ruth, Monika and I built, planned, devised exercises and challenges for the day. The preparation alone was great fun.
A day that inspired not only the schoolchildren!
When Girls'Day finally arrived, nine girls came to our beautiful office at Bonner Bogen, and swept us off our feet. We started with a little presentation on cronn, a few of our female colleagues and us, and our responsibilities. Then the girls got to meet our three robots: Charlie, Blast, and Gelo (they are all girls too, by the way, Charlie is short for Charlotte, obviously). We gave them progressively harder exercises for them to figure out the robots' functions – movement, lights, sound – and the elements of the programming language – statements, loops, if-then-else.
After every exercise they presented their results to each other. The grand finale wasn't trivial by far, but the girls mastered it with flying colours! We were always there, happy to help with any problem or question, but the kids were so independent and self-reliant that they hardly needed any help at all. They worked with such zeal that at lunch time we had a hard time convincing them to put the robots down for a second to have a slice of pizza. "Girls, you're rocking this, but trust me, thinking is easier with a bit of sustenance in your stomachs!"
For me, it was a wonderful day. In a few short hours the girls went from "I never understood programming" to "Programming is so much fun!". Together, we achieved great results and, at the same time, laughed a lot, chatted, and shared many biscuits. The girls showed a lot of curiosity, courage, and joy in trying out new things; they found clever, creative solutions; and their teamwork and their mutual support were a delight to watch.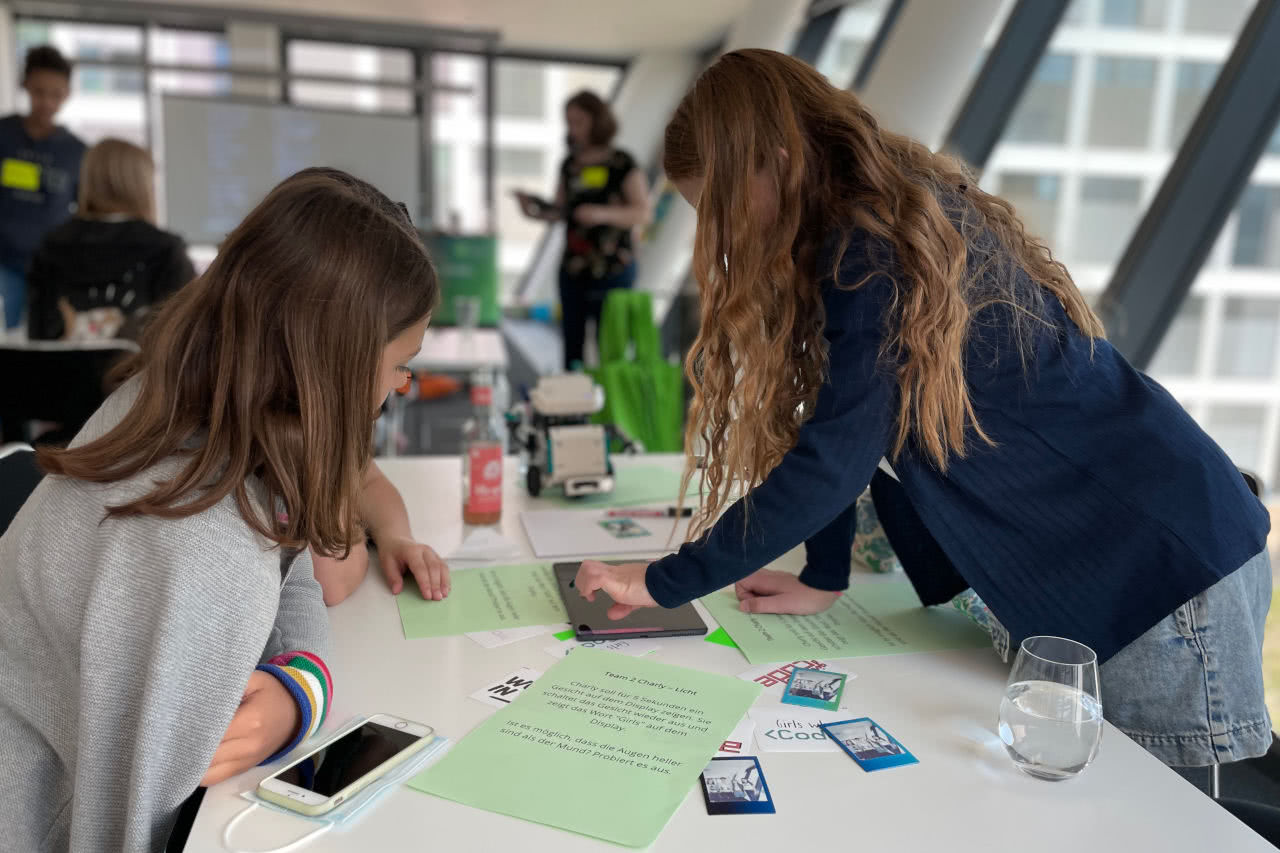 Girls'Day is great fun – and opens up new perspectives!
Some people ask whether the Girls'Day and its counterpart, the Boys'Day are still in keeping with the times, and rightly so. We all know that there is no such thing as men's jobs or women's jobs, don't we? Why the separation of boys and girls? What about gender diversity? Why not a Kids'Day? I'd love to offer such a Kids' Day, too, but explicitly additionally, not instead of a designated Girls'Day.
Studies show what we witnessed first-hand on this day: When girls are among themselves, they learn more in STEM subjects, they have more self-confidence, they feel more comfortable. And we still need support for girls and women in these areas. Not because they're not smart enough, that's not up for debate, but because their presence there is still not taken for granted. As a woman in tech, I notice that regularly in the small things, like in how people still say "Oh, you as a woman!" when I tell them about my job.
Wouldn't it be nice if Girls'Day and Boys'Day made themselves redundant one day? If we motivated enough girls for tech and boys for educational or care jobs that everybody got to decide their careers based on interest and not on gender clichés? But we're not there yet, so until we are, we need opportunities like these.
The future of tech lies in providing room for all developing talents – regardless of gender.
We hope the girls enjoyed the day as much as we did. But most of all we hope we got to show them a glimpse of our world. Our world – not a man's world. With a proportion of women of slightly above 20%, cronn is a bit ahead of the average German tech company. We have many smart, strong, dedicated women working here who prove that the cliché that tech is boys' stuff is plain wrong. Still, there's room for improvement.
On the other hand, you could see this room as a place for the girls to take up, for them and their capabilities to grow in. But this works only if we can show them that this room is open for them just as much as for their male classmates. That being a girl (and being girly!) is not at odds with developing software. That 'typically female' skills like creativity and the capacity to work in a team are needed and appreciated in tech. (And one day we'll get rid of this binary distinction of 'typically male' and 'typically female', too!) And that it's really good fun to program a robot so that it does what you want, even if you drive it into the wall sometimes.
To 'our' girls: I'd like to wish you great fun figuring out what your paths in the future will be, may it be in tech or 'something to do with languages'. Stay as brave as you are today to just try things out; take on challenges, take a few wrong turns here or there, plunge yourself into the adventure. And if your path leads you to us, we're looking forward to welcoming you!