It started in front of the stage
I have just returned home from Cornwall, where I gave a talk at Agile on the Beach. A new conference, a new community, another badge for my collection. It was an amazing experience, yet again. It was my eighth conference as a speaker so far this year, and it will not be the last.
But maybe I should start this story at the beginning. When I started working at cronn a few years ago, I was nowhere near speaking at international conferences. I had a diploma in math and only a very faint idea of test automation or agility when – a few days before my first day at cronn – a future colleague called me to tell me that a bunch of test colleagues were booking tickets for a conference, and to ask me if I wanted to come along. Of course, I wanted to, but was I not a bit overzealous? I had not worked a single day for the company and wanted to be sent to a conference? But my colleague reassured me that she had already spoken to my new boss about it, and it was not a problem at all. Oh well then, an education budget is there to be used, I thought, and agreed.
Half a year later – at which point my idea of test automation and agility were a bit more defined – my new teammates and I went to the Agile Testing Days in Potsdam, one of the biggest conferences for agile testing in Europe. It was love at first sight: The conference is like a big festival where you learn heaps and have even more fun. The community is incredibly open and helpful, and they accept newcomers with open arms. I listened to the talks in awe, and then I knew: one day I would like to be on this stage, too.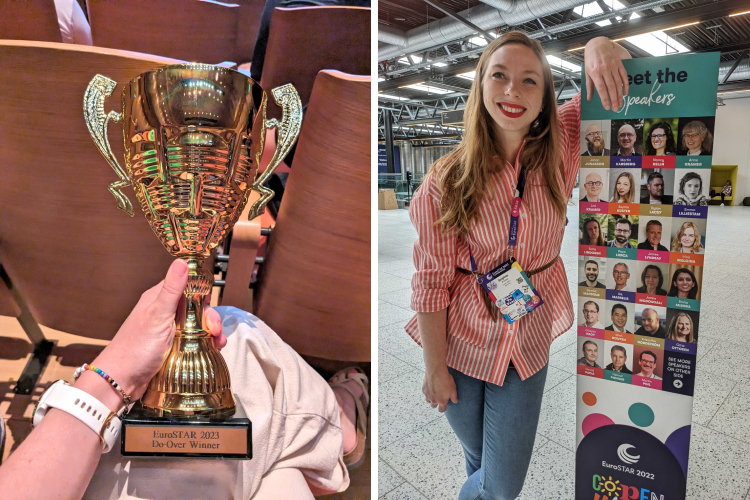 An idea and a whole lot of courage
In the months after the conference, an idea for a talk took shape in my mind. But when the call for papers for the next Agile Testing Days came and went, I did not have the guts to go through with it and submit. So the next year I was in the audience again, chiding myself for my cowardice. Back at the office at our Friday end-of-work beers I announced (a bit boisterously) I wanted to become a conference speaker. Jobst, our founder and CEO, immediately promised his and cronn's support; what is more: in my next yearly review we formulated as an objective that next year I would at least try. There I had it, cold feet would not be an option again. What had I gotten myself into? So I wrote a proposal. On the very last day of the call for papers of Agile Testing Days 2020, fearing my own courage, I clicked "submit", and a few months later I read "Congratulations, Sophie, your talk has been accepted for Agile Testing Days 2020". I could not believe it.
I wrote the talk, designed slides, practiced reciting. The abstract took a lot of work, but it was nothing compared to the effort I put into the final talk. But cronn had my back, and I was always allowed to take time for it alongside my project work.
And then the big day came, November 11th, 2020, my first talk for an international audience. Well, I will probably not have to say much about the year 2020. Long story short, I was not on a stage in a big conference hotel. The conference took place online for the first – and hopefully last – time.
We had turned the office into a broadcasting studio, set up a speaker's desk, microphone and camera in the conference room. But instead of the faces of the members of the audience, I looked at a lens. Despite all that, I see the day as a full success: I overcame my nerves and told my story; I received great feedback: my talk was voted one of the ten best sessions of the event; and people I look up to, whose books and blogs I read fervently, listened to me and complimented me. I wish I could bottle this feeling.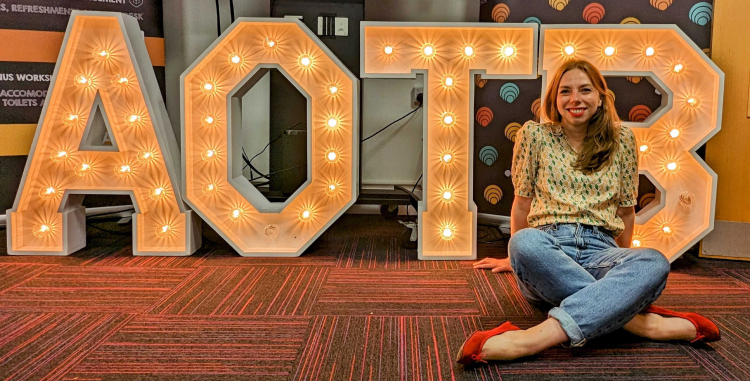 On Europe's stages
Afterwards, a friend gave me sage advice: "A conference talk is way too much work to give it only once", he said, and I took that to heart. I submitted it again, and again it was accepted. At one point I did not even need to apply to conferences as I was invited instead. My talk and I have gotten around a lot by now: virtually to Potsdam, Berlin and Istanbul, in 3D to Copenhagen, Paris, Munich and to Phantasialand, and more exciting places. I spoke on big and small stages, one notable time on an ice rink. I had the privilege to speak to the tester community, to Java developers and to software architects, at Agile Testing Days, EuroSTAR, FlowCon, TestJam, JavaLand and others. Sometimes it was a track talk, sometimes even a keynote. Twice I won awards with this talk, the Best Track Talk Award at EuroSTAR and the Best Speaker Award at German Testing Day.
What is unusual about this is that it is not a technical talk. It is about what happens when you speak openly about mental health issues, also at work. It seems that it hit a nerve even – or especially – in our highly technical, analytical world. It makes me even happier to have the opportunity to share my story with so many, to tell them: "You are not alone!".
This year I have premiered new talks. And I have quite a few conferences coming up. At AutomationSTAR I am even part of the program committee. It is exciting to get to see things from this perspective, too. I will give new talks, get to know new communities, explore new cities, meet new friends. And I am also returning to Agile Testing Days. This time I am keynoting, together with a friend. When I first heard one of her talks a few years ago, I thought "I want to speak like that!" Now we are friends, sharing a stage, giving a keynote. Is that not exciting?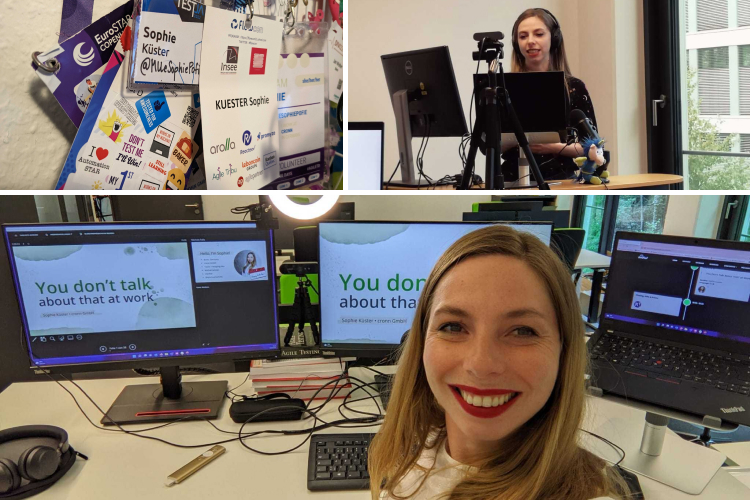 Don't reject your own proposal
Speaking at conferences opened up new worlds for me. And it can do the same for you. If you are wondering where to start: with an idea. For me, this part was fairly easy. I had this story in my heart that wanted out, that wanted to be told. In all fairness, coming up the ideas for talks two and three was a little less obvious, but I got there in the end. And with one of them I even won the EuroSTAR Best Track Talk award again. That makes it twice in a row, what an honor! I think we all have a story to tell, or even stories, plural. If only we dare.
Many people hold back, thinking they lack expertise. But the truth is: you are an expert in your own perspective, only you can share your point of view, and this perspective can only be enriching. Some wonder if anybody would even want to listen to their talk. I once got a wise answer to this question: "Don't reject your own proposal!" That is what program committees are for, they are bound to know what they want to hear! The only way to find out if that is your talk is to submit and see what happens. Sure, it may be rejected. In all honesty, that stings a bit, every time. But there are so many possible reasons, sometimes someone else had the same idea, sometimes a reviewer was in a bad mood. Then you just have to try again. The best conferences will even provide valuable feedback about your proposal, about what was good and where there is room for improvement. If you dare to submit, you can only win.
With a little help from my friends
And then there is the thing about the stage fright. People ask that a lot: What do you do to not lose your nerve when you speak to 300 people at an international conference. Honestly? I have no idea. In the minutes before I go on stage, my nerves kill me, my hands shake and my voice gets all weird. But you know what? That is allowed. Also honestly. I have never once met an audience that held my nervousness against me, not even when I completely lost my train of thought in the middle of the talk and had to take a breather to recenter. It is not that bad, it is only human. After a few minutes, the nervousness always eases off, and then it is amazing fun to be onstage. And I may very well get addicted to the applause.
Without the support (and the sometimes not so gentle nudging) of cronn, all this would not have happened. I am very grateful that we have an education budget that lets us go to conferences and see this world. But most of all I am grateful that cronn supports my own speaking career, that it is now part of my job. And I am grateful to my dear colleagues and teammates who spell check my proposals, who listen to my dry runs even if they already know the talk by heart, who root for me when I am onstage and who celebrate with me when I come offstage. You all are the absolute best!